I'm going to be covering the following areas of pCloud:
A background check (domain research) on pCloud
The journey as a new customer walking through pClouds interface
What all the options in pCloud mean and what you can do with them.
pClouds unique crypto feature
pClouds app background
pClouds website hosting area
I'm also going to be providing anyone who purchases pCloud via my link the following goodies:
Massive Lifetime discount for pCloud (65% off + lifetime offer)
My Email Signature Business Course (worth £199.99)
My How To Start A Dropshipping website in 30 minutes course (worth £199.99)
Exclusive Video on "How to Find Viral Content" for free (worth £67)
Mega Discounts on Hosting and Domain Purchases (80%+ on savings)
Private access to my Facebook group where you can ask me questions and get a direct response from me(worth £997 per year)
If you're more a video person, I've created a full-blown pCloud video walkthrough review above. Grab some popcorn and have a watch.
What Is pCloud?
pCloud is cloud storage to help people upload files, share them, and download them to keep everything in a centralised area no matter what device you will are using.
With pCloud you will be able to:
Access files on all devices (desktops, laptops, mobiles, and tablets)
Share and collaborate (Send, receive and work together with your friends on every file
Unbreakable security (Keep your private files confidential with the highest level of encryption with pCloud Crypto)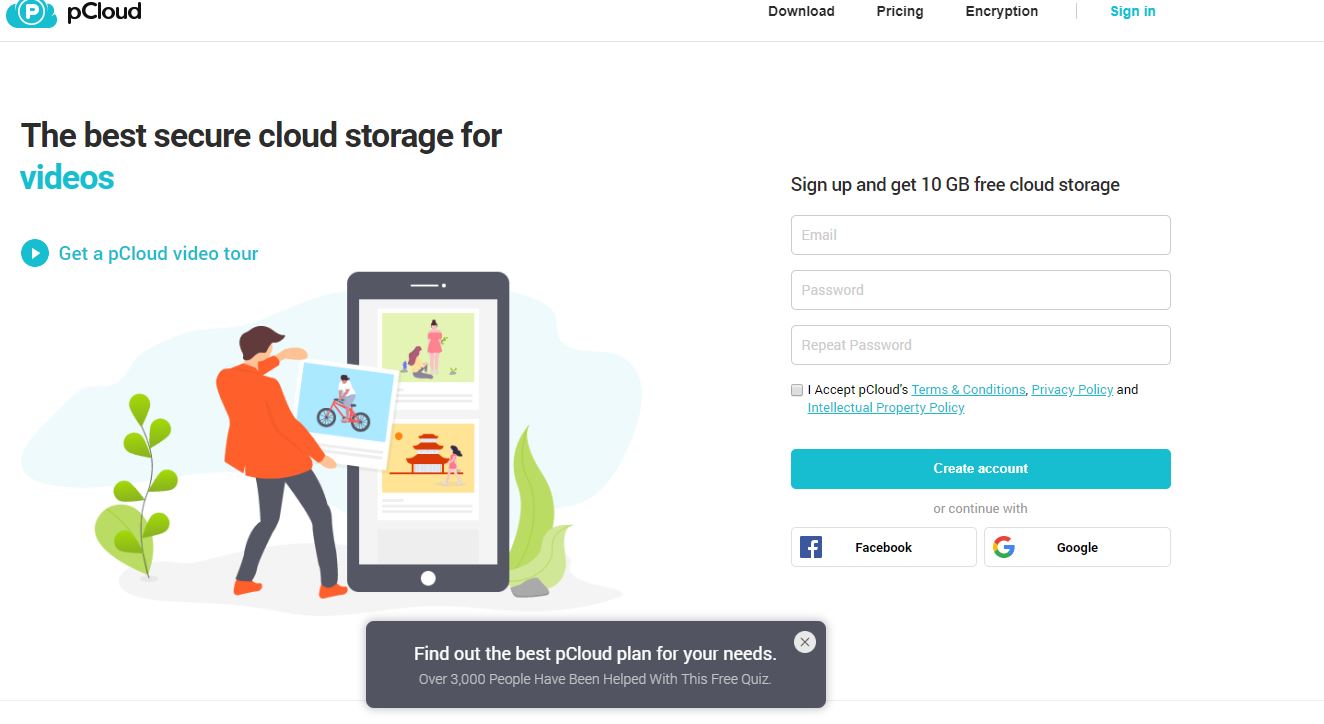 Who Is pCloud Built For?
pCloud has been built for anyone who wants to get access to there files no matter where they are or what device they are using.
Some well-known brands currently using pCloud are:
Nike
Twitter
Coca-Cola
Instagram
Uber
and many more big-time brands.
pCloud Background Check
Here is the following information about pClouds domain history:
Domain Registered: 12/12/2007
Domain Expires: 12/12/2022
Domain Last Updated:10/09/2019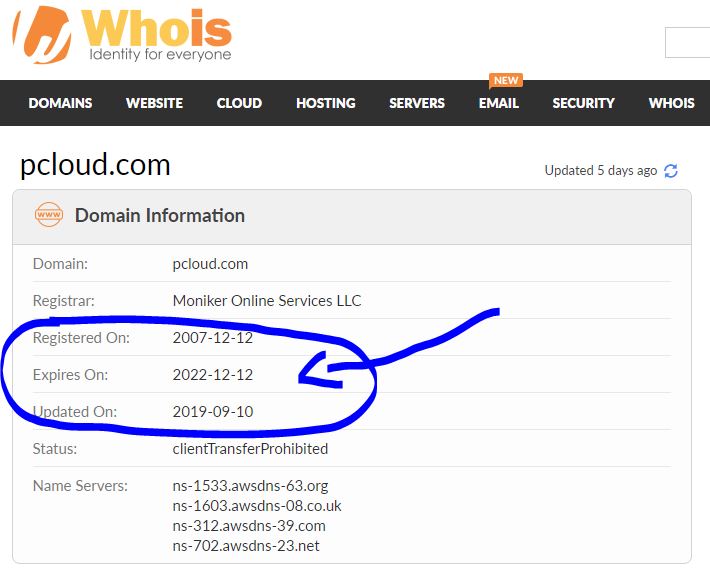 As you can see, pCloud has been around for many years and is looking like they are planning to stay around for many more.
They last updated the website (from this blog creation) 10 days ago showing they are active with updating the site.
pCloud Customer Support
Before I invest in any software, I want to know the customer support is going to be alert and responsive.
I contacted pClouds customer support, and they replied to me within a few hours.
Any company that takes longer than 24 hours to reply is usually a no for me or a big turn off. Well done pCloud support team, you've passed this test.
pClouds Google Playstore
I often don't trust testimonials which have been placed on a website owned by the company.
It's far to easy to be misleading or the information to be manipulated. This is why I turn to review sites or in this case, Google Play Store and Apples App Store.
Here are the following downloads and average review for each platform:
Google Playstore
21,791 Installs
Average Review score – 4.4 stars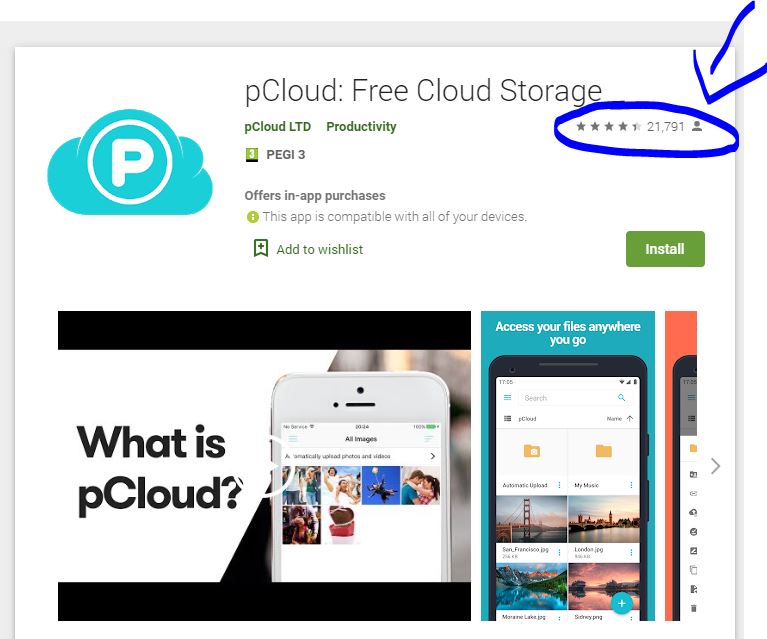 Apples App Store
Unknown Installs
Average Review Score – 4.5 stars

Those reviews fill me with confidence.
Is pCloud Easy To Use?
Summarising this question; yes pCloud is simple to use.
pCloud has been designed to mimic what a standard computer folder looks like, sidebar to the left and folders to the right.
They also display a jargon-free worded interface with straight to the point tabs to make the navigation as simple as possible.
I mention in my Video above that most software always come with a learning curve, and this is no exception with pCloud, but the important thing is how fast you can overcome these issues using the resources they provide you with.
I got stuck mid-video, and you can quickly see in a matter of seconds that I found how to solve the problem using pClouds help area.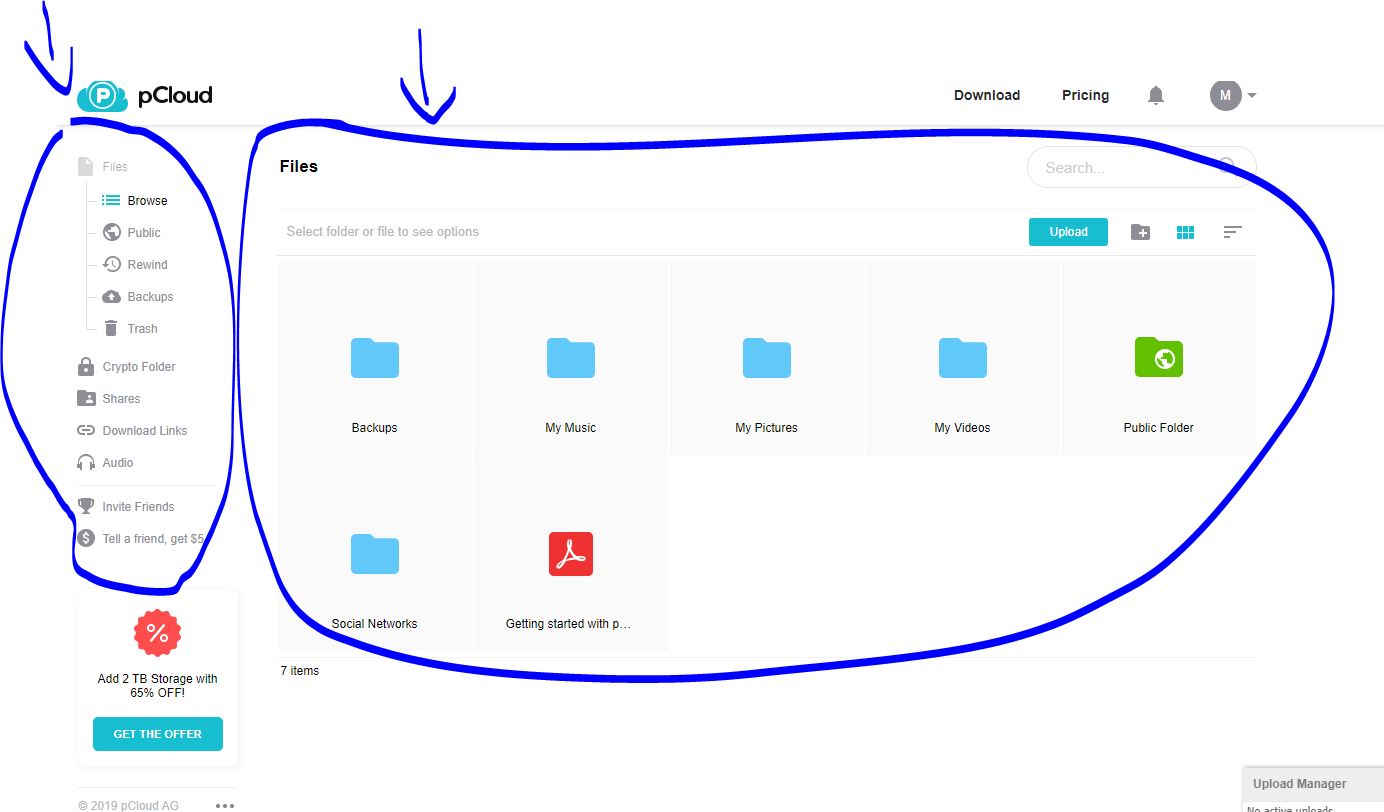 What Is Unique About pCloud
pCloud offer three features which I think is super helpful and very nifty.
These three features are:
1) Crypto Folder
2) Download Links
3) Hosting HTML Static Websites
Here is some more detail about these:
pCloud Crypto Folder
The word "Crypto" scares a lot of people, but in reality, all it means is extra security.
pCloud offers a particular area in your dashboard called "Crypto Folder", and the setup is pretty simple.
You click it, set a password, and you're done.
Even if you're logged into your pCloud account, you will still need to access your special password if you want to access your Crypto folder.
This is fantastic because:
Prevents hackers from getting access to your confidential files
Gives you more security
Stops other uses of your account from seeing what you don't want them to see.
I'm not sure why more cloud storage companies don't include this sort of feature. It's a win-win all way round.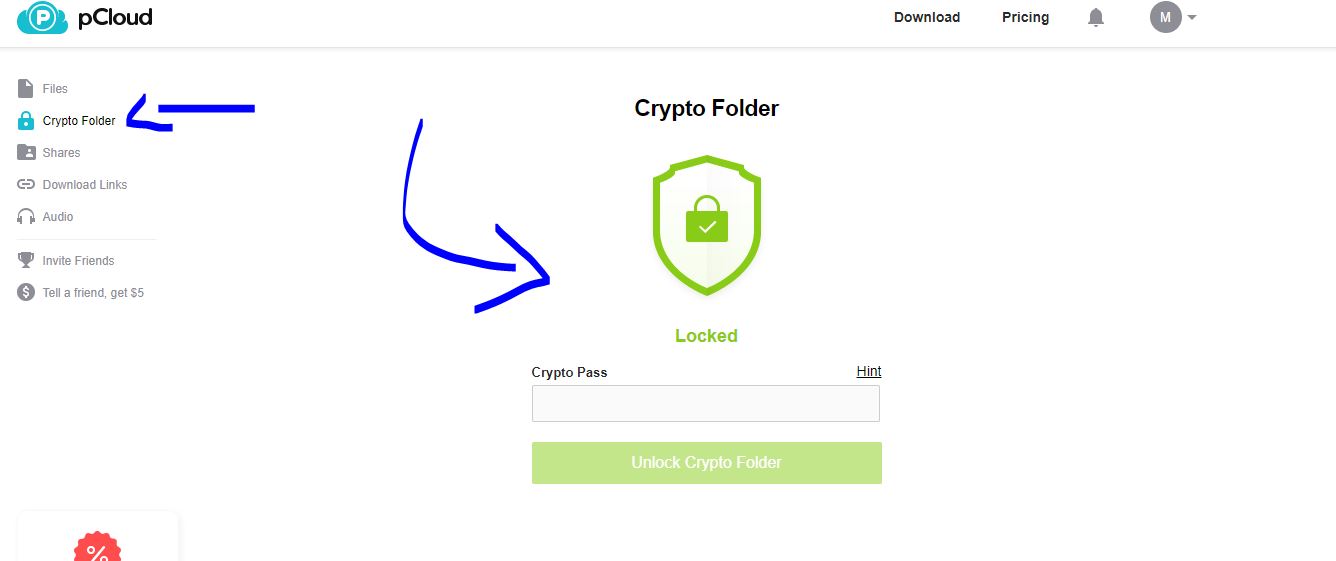 pCloud Download Links
I love this feature (probably my fav) because I see huge potential for anyone in the creative industry who needs to showcase a portfolio fast and cheaply.
The "Download Links" area allows you to create an almost landing showcase sorta thing where you can share a URL with someone, and they can see a portfolio of images, videos, documents in a website style.
It's 1-2 clicks, and you're setup. It's a timesaver for anyone whos not techy or wanting to set up a portfolio website.
pCloud has included a "statistics" area for this which shows you how many downloads, views and clicks a specific link you share from your download links.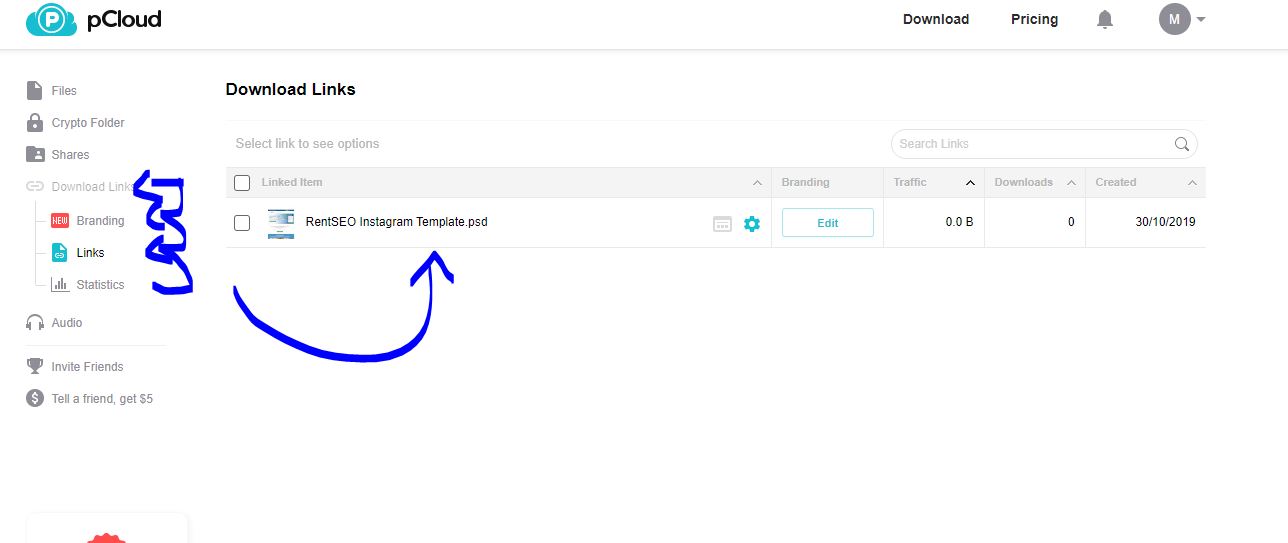 pClouds Hosting HTML Static Websites
For me having a cloud storage area like pCloud that allows me to upload HTML files and embed/share them is a massive turn on. (yep… this blog just got sexual 😉
On a serious note, most cloud storage platforms block this functionality, and I have no idea why! It's such a benefit.
Let's say you created something like an email signature.
To make your email signature live you would need to upload it onto hosting.
If you don't have hosting, you will have to purchase hosting, which will cost around £100 per year. £100 Per year for an email signature is not a smart investment.
Now, if you have pCloud, you can upload your signature to the hosting area and leave it there. pCloud will not block it showing so you can host your signature with pCloud.
How good is that?
pCloud Review Conclusion
In reality, most cloud storage systems provide great value; at the end of the day, you need an easy to use and reliable software.
I think it's difficult for any cloud storage to stand out and if they are going to stand out, it's going to be on either pricing on storage OR enhanced features like hosting sites and Crypto.
I think pCloud has excelled on the three core features I mentioned earlier and is an absolute must if you're looking for a more centralised solution over dropbox and similar cloud storage providers.
My rating for pCloud is 9/10, and the 1 point off is only because I like a little more of modern design but bravo pCloud.
If you're going to purchase pCloud make sure you use this link or the link above to ensure you get your bonus content and discount for the lifetime offer.
Make sure you send an email to "hello@martyenglander.com" with proof of purchase, and I'll send your bonus content over.
Have a question? Leave a comment below and I'll be sure to answer.