In this YT Marketer review I'll share everything I found out after following this YouTube monetisation course for 11 days and I'll leave nothing out!
Are you struggling to earn money online and want to learn how to make money on Youtube?
I've been there. You spend hours upon hours trying to figure out what works, only for your efforts not paying off. It's frustrating and discouraging. But now I know the secret! And it all starts with this course that teaches you everything about YouTube monetisation in just 11 days!
This course will teach you how to get started making money on YouTube without spending a dime of your own time or money – and it won't take more than an hour per day! All the tools are provided for you so all you have to do is follow along with the lessons and start earning.
Hold onto your marbles because things are about to get tasty.
What is YT Marketer?
YT Marketer is a YouTube monetisation course created by Chris Derenberger.
It's a action based, no BS, straight to the point Youtube course designed to help people create brand new Youtube accounts and get them monetised within a short period of time.
Mentioned above I purchased and followed this course and the results may surprise you!
Who is Chris Derenberger?
Chris Derenberger is a YouTube marketer, content creator and business owner.
He is also the author of YT Marketer .
As many of my loyal readers will know I'm not one to follow up on something if it isn't any good so when deciding what course to purchase for my most recent YouTube monetisation experiment I decided to go with YT Marketer.
I'll be completely honest and say that I didn't have high hopes for the course, but I was pleasantly surprised!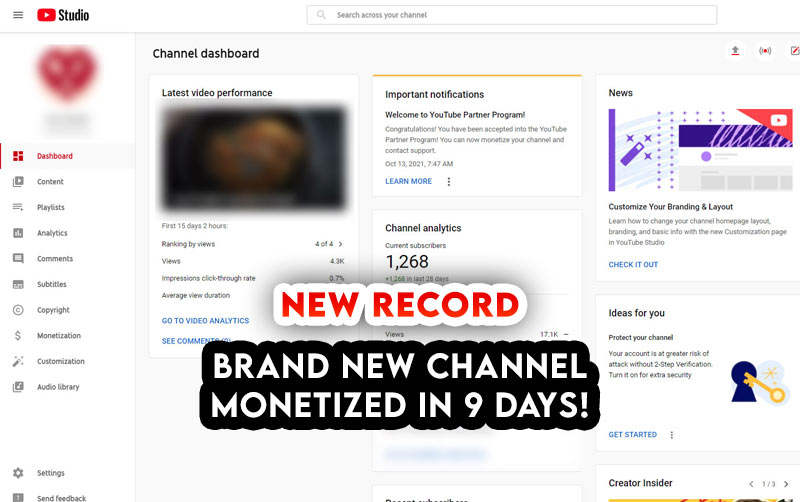 Whats inside YT Marketer?
Inside YT Marketer is step by step training on everything you need to understand in order to create a Youtube channel, create videos following a specific format, manipulation methods to rank the videos on Youtube AND Google, and finally, grow the channel to the minimum requirements of Youtube Adsense which is 1000 subscribers and 4000 Hours Watch Time.
The course is designed for complete beginners and includes:
-A step by step guide on how to set up a youtube channel
-How to create videos following a specific format
-Manipulation methods to rank the videos on Youtube AND Google
-How to grow the channel to the minimum requirements of Youtube Adsense which is 1000 subscribers and 4000 Hours Watch Time.
YT Marketer Pricing
Yt Marketer Pricing is $1497 as of the date this post has been created. YT Marketer also has a support facebook group and the pricing of that is $37/pm which is pretty reasonable considering Chris will hold your hands and given you 1on1 support with anything relating to the YTMarketer course.
Who is YT Marketer for?
YT Marketer is for anyone looking to earn an income through Youtube Adsense. It does not matter your experience level, YT Marketer does not have any jargon and beginners can take advantage of this easy to follow Youtube course.
What is Youtube Adsense?
Youtube Adsense is an advertising platform created by Youtube which allows anyone to earn an income in the form of money when they upload videos onto their channels.
How much can you make per month?
This will depend on your niche and how well your videos are performing. I found that for my channel, adding 1-2 new videos every 2 weeks was enough to cover monthly expenses.
Different niches will earn you different rates, some examples of high payout niches are personal finance, tech/gaming and health/fitness.
Can I use my own videos in the course?
Yes, you can use your own videos in the course but it is recommended that you use Chris's provided video templates as they have been designed to rank well on Youtube and Google.
Is YT Marketer a scam?
Anyone who thinks YT Marketer is a scam, is wrong. I've gone through the training, applied every video and was able to monetise a brand new Youtube channel in 11 days.
What is a scam? A scam is defined as a dishonest scheme or action designed to cheat or defraud someone.
This course follows specific actions which work. If you follow the training and put in the work, then you will see results. Plain and simple!
If you've not yet watched my YT Marketer review and live case study, you can do so by tapping the play button on the video above.
What makes YT Marketer unique?
The things that make YT Marketer unique is the straight to the point, jargon free step by step video training. It's broken down in the most simplistic way you can imagine. It's a well thought your Youtube training course for any level content creator looking to earn an income on Youtube.
If you're looking for an honest, action based and results orientated Youtube monetization course, then YT Marketer is the way to go!
YT Marketer Conclusion
My YT Marketer conclusion is anyone who wants to learn Youtube should grab this Youtube course.
You'll learn in a simple, methodical way on how to format, create, and rank Youtube videos. You'll be starting off on the right foundations and being growing on concrete rather than quicksand.
The YT Marketer Facebook group is a polite, engaged, and supportive group which will hold your hand and support you whilst you learn the ways of Youtube.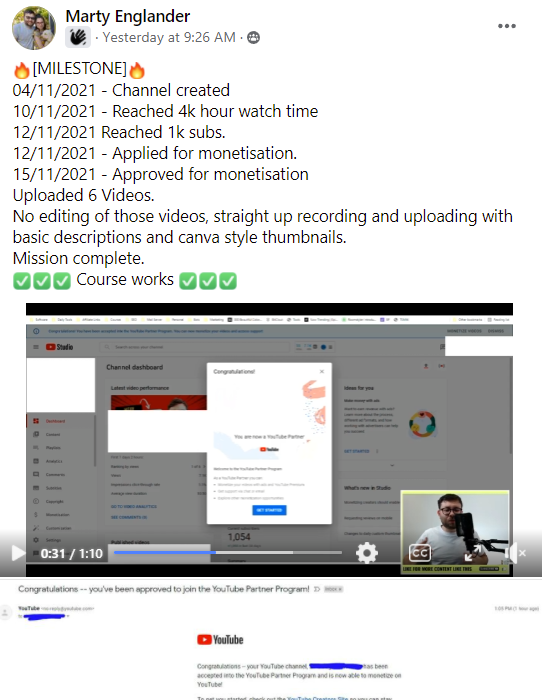 Pro's of YT Marketer
– You can do this course without any prior knowledge
– It's affordable
– The Facebook Group is supportive
– He covers the basics so you don't have to learn everything the hard way
– The course is updated regularly based on feedback from students
– Chris is responsive to your questions and posts in the Facebook group
Con's of YT Marketer
– I like everything about this course, it's my favourite YouTube course
– It's not free
– Learning all the nuances can be difficult for newbies
YT Marketer Bonuses
As a special thank you for using my affiliate link to purchase YT Marketer, I'm going to give you complimentary access to my Local Business Ranking course teaching you how to rank local businesses with ease so small/medium sized businesses will pay you a minimum of $500/pm for less than 2 hours work per month and my video SEO course which can be used along side the YT Marketer course which will deepen your knowledge on keyword research and video rankings. These courses are worth close to $1000 and you will get them for free when you click here and buy YT Marketer.